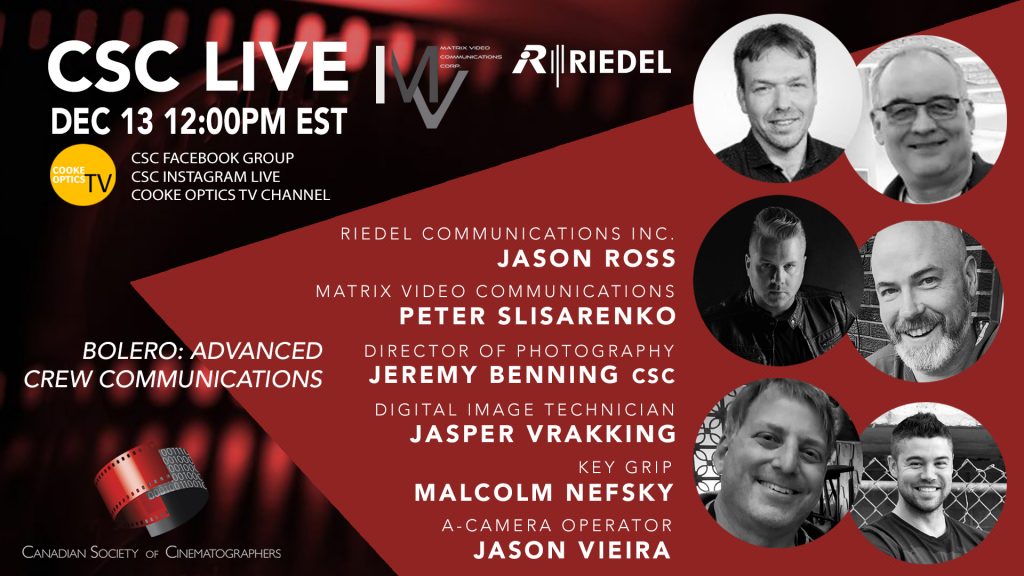 Join us for our first CSC Live session since August! During this interactive session, we will be taking a close look at the Bolero intercom system, made by Riedel Communications Inc. Jeremy Benning csc will discuss his introduction to this system on a recent Disney project with Jason Ross from Riedel and Peter Slisarenko from Matrix Video Communications. Questions from viewers will be part of the session.
Used by organizations such as Formula 1, Cirque du Soleil, Olympics, NFL etc, this extremely versatile and robust crew intercom system proves its value amidst the challenges of on set communication during pandemic filmmaking; but also as a new standard for film crews going forward.
Special guests Jason Vieira (A-Cam Op), Jasper Vrakking (DIT) and Malcolm Nefsky (Key Grip) will take part of the conversation as well to discuss their experience with using crew intercoms in general and how the Bolero system fit into their on set workflows.