From the President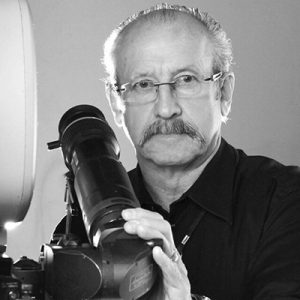 Some believe that the status quo is safer than change, which they fear might re- sult in confusion and chaos. But change comes for many reasons, whether it's change simply for change's sake, or change based on sound reasoning. I have always been of the opinion that a certain modicum of reasoning needs to exist behind any change.
This President's column will soon undergo some change as it will no longer be a part of the printed Canadian Cinematographer magazine after November 2021. This is cer- tainly no cause for concern, as it will still be available on a digital platform via a CSC newsletter.
The question might be posed why the change. The answer is simple: it's time. The sim- ple truth is that not everything can be expected to survive as is for many reasons, and a decision has been made to update and upgrade Canadian Cinematographer magazine.
We believe that a change in the right direction will be a new format look. This is change for a good reason, because the aspect ratios have, in the main, moved to a more modern image visualization format. The magazine cover will reflect that intent, coupled with a new size dimension and a revised masthead.
One of the most important aspects of a magazine is recognition. When one considers the fact that there is a plethora of magazines on a display shelf, the requirement is for the CSC magazine to gain prominence over others. It should be noted that even though the design and layout of pages within a magazine are to be carefully considered, the need for a bold and recognizable cover is what potential readers will be aware of before even opening the magazine.
To further explain the rationale, think for a moment about some of the more iconic magazines: Time, Rolling Stone, Seventeen, Life, People, Bazaar, Vogue, Look, Esquire and more. Those who subscribe to any particular magazine only look for the masthead and ignore the contents until later. Why? Because they are followers of the magazine that supports their lifestyle. This is why recognition is so important.
There is one further aspect to consider and understand – the current masthead was designed in 2009 and has not changed; there has not been any reason for a new look until now. With this intended change, comes the realization that it will take time to re- establish a readership because of the new masthead.
A positive side to this is that the magazine will be sent by mail to the established read- ership, therefore the recipients will not have to search among the competitive maga- zines that are displayed on magazine racks in stores and other outlets.
So, with this information in mind, I would like to thank all of you who have taken the time to read my ramblings over the years. This change will hopefully result in continued reading of the column, and I look forward to any comments that might come as a result of the new design format. Happy reading.
November Issue
Check out the November issue of Canadian Cinematographer Magazine.
Read More
November 07, 2021
Canadian Society of Cinematographers announce $3.75 million campaign in the pursuit of equity in the film and television industry
Just ahead of the opening of CSC's 64th Annual Awards Virtual Gala, Paul Bronfman announced the public launch of the organization's The Future is Calling Campaign, an initiative aimed at increasing equity, diversity, and access of opportunity to the film and television industry in Canada.
Read More
The 64th Annual Canadian Society of Cinematographers Awards
Join us for the virtual 64th Annual CSC Awards on November 7th, 2021. 1:30pm EST to 5:30pm EST.
Read More
September Issue
The September issue of Canadian Cinematographer Magazine is now out. We have also returned to print!
Read More
New Insight Series Video
The latest Insight video launches today on the CSC's YouTube Channel. Featuring drone pilot Tom Comet Associate Member
Read More
Welcome New Members – July / August
Introducing our newest CSC Members…
Read More
New CSC Merch
A selection of new CSC branded apparel items are now available on our store.
Read More
Congratulations to Boris Mojsovski CSC ASC
The CSC congratulates Boris Mojsovski CSC ASC for his acceptance into the American Society of Cinematographers.
Read More
Welcome New Members
Introducing our newest CSC Members…
Read More
New Insight Series Video
The latest Insight video launches today on the CSC's YouTube Channel. Featuring cinematographer James Klopko csc
Read More