From the President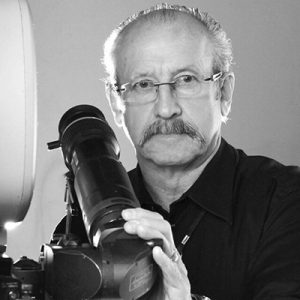 "And the winner is…"
Dare I reference that well-known phrase that every- one is now so familiar with? Traditionally, we are accustomed to witnessing awards being presented in person during the CSC Awards, but now we must be content to honour the winners virtually until the time when we can once again gather in person to celebrate the talents of our cinematographers.
There are many impediments and challenges that will need to be overcome before that day dawns, but we are hopeful that it will be soon.
On Sunday, April 18, there was encouragement via a special treat that came in the form of the virtual ASC Awards. The event took on a new dimension via a virtual platform called Remo. While preparing to partake of this new platform – it requires some personal input, time and training – someone asked me to describe this new platform and the only way that I could offer some insight was to reply, "It's like Zoom on steroids."
Space will not allow the opportunity to effectively describe the process, however, I will say that it offered the opportunity to engage with friends and colleagues in a manner other than the usual Zoom meetings. I was invited by one of our sponsors to attend the event and given a link to attend the training sessions that were made available.
In short, it works like this: the plat- form shows an overview, or map, of the ASC Clubhouse and surrounding buildings, each with a sponsor's name – ARRI, Fujifilm, Panavision, etc. I was offered a seat at a table in the ARRI building and was able to find my place for the Awards presentation. The interest- ing aspect to this, though, is that prior to the time given for the Awards, we were able to select the ASC Clubhouse on the map to look at who else was there. I could also search for anyone with whom I wished to contact using the chat button on the screen.
Once I made contact with the person I was looking to meet, I clicked on my name, which showed my position at one of the many tables in the room and double-clicked on the person whom I was looking to contact. I was then teleported to a vacant seat at that table. The tables varied as far as the seating was concerned, and if a table was fully occupied then a visual sign came up, at which point I went looking for another contact or I could decide to wait for a seat to become available.
George Willis csc-sasc, April 2021 Canadian Cinematographer
2020 Awards Announcement
CSC President George Willis csc-sasc announces the 2020 Winners.
Read More
CSC Live: Luc Montpellier csc + Peter Cosco
CSC Live: Luc Montpellier csc and Production Designer Peter Cosco will discuss musicals and production design. Join us for the final CSC Live of the season Thursday 12:00PM EST July 9 2020.
Read More
Sony COVID19 Relief Fund
Sony donates to the Actor's Fund of Canada on behalf of the CSC and to the CSC itself. Thank you Sony from our community.
Read More
CSC Live: Maya Bankovic CSC & Matt Lloyd CSC ASC
Maya and Matt discuss the director and cinematographer relationship. Thursday July 2 2020 12:00PM EST.
Read More
June 26, 2020
CSC Live: Bobby Shore csc & Norm Li csc
Bobby Shore csc & Norm Li csc talk about the path to finding meaningful projects
Read More
June 18, 2020
CSC Live: Douglas Koch csc and Lighting Designer/Gaffer Fast Eddy Mikolič
Douglas Koch csc and Lighting Designer/Gaffer Fast Eddy Mikolič will demonstrate how to remotely light and shoot with Arri Remote Workflow Expert François Gauthier and Grande Chief Technology Officer Nicolas Fournier.
Read More
Diversity Consortium
On June 11th, the CSC's Diversity Committee (DC) hosted a closed-session webinar for all our members, which featured a panel of cinematographers representing the spectrum of diversity in Canada. The DC was formed earlier this year, and gained momentum in light of the current climate of events happening globally. The purpose of the panel, moderated […]
Read More
June 04, 2020
CSC Live: Jeremy Benning csc & Gavin Smith csc
Remote Colour Grading with Technicolor Toronto Senior Colourist Mark Kueper + Deluxe Toronto Senior Colourist Joanne Rourke. We take a look at the remote grading set ups in real time used by DP's Jeremy and Gavin on their respective shows "The Expanse" and "Wynonna Earp". Special Guests: Deluxe Picture Operations Manager Gary Brown + Technicolor […]
Read More
May 28, 2020
CSC Live: Kristin FieldHouse, Associate Member & Claudine Sauvé csc
Claudine Sauve CSC & Kristin Fieldhouse, Assoc. Member discuss finding "the look" of a project.
Read More
May 21, 2020
CSC Live: Serge Desrosiers CSC & Adriano Goldman ASC BSC ABC
Serge Desrosiers CSC and Adriano Goldman ASC BSC ABC take you behind the scenes of the television show The Crown.
Read More