From the President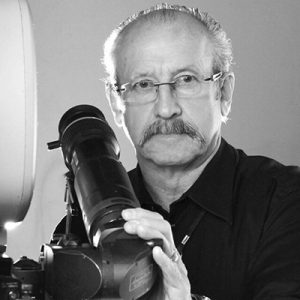 There have never been more ways for us to communicate than there are today, and this offers so many options for learning. The CSC Mentorship Program is proving to be extremely successful, and now with more than 80 pairings of mentors and mentees, it offers a diverse group of its membership to engage in this unique way of learning.
One of my mentees said just before we commenced our Mentorship Program to- gether, "My goal as a cinematographer is to learn, experiment and achieve." I find that his words aptly describe what mentorship means to him and what he hopes to achieve as a part of the process. It is vital to the fu- ture of our cinematographers, therefore, and it is incumbent upon us to provide whatever information we can to allow for this process and progress to take place.
Prior to beginning my career in the film in- dustry, I spent three years in art school and then moved into the world of advertising. During this period, it was not the norm to seek mentorship, and the learning process was more akin to climbing a ladder – one step at a time – but I never viewed this as anything negative because there was no oth- er way to move ahead.
However, when I transitioned into the film industry, from literally my first day, I sud- denly became aware of the need to gather as much information as I could. The question was how I was going to address that need,
and the only answer I could come up with was to pay attention, as well as ask questions. This might sound as if everything was avail- able for the taking. Not so. Being available for whatever presented itself was only the beginning. The rest of the learning process, for me anyway, was to make connections with people whom I admired and respected in the industry. To me, this is an extremely important part of the process because we are also in a people business.
From my early days in the industry, I have been very fortunate to have had many men- tors to whom I will always be grateful. One thing that I realize time and time again is the fact that while so much of what we need to know in filmmaking is available online these days, there is no substitute for making a con- nection with someone who can open one's eyes to the process of learning. The results of sharing information, whether in person or even via a phone call, can and should never be underestimated. The times that we are ex- periencing are difficult, which adds more of a challenge to the mentoring process, but I have found that it continues to be most re- warding. Aside from a phone call, it's pos- sible for a mentee to send a visual example that relates to a specific question and then take the time to connect and explore the an- swers.
If there is a willingness to learn, the CSC will provide it.
George Willis csc-sasc, April 2021 Canadian Cinematographer
Sony COVID19 Relief Fund
Sony donates to the Actor's Fund of Canada on behalf of the CSC and to the CSC itself. Thank you Sony from our community.
Read More
CSC Live: Maya Bankovic CSC & Matt Lloyd CSC ASC
Maya and Matt discuss the director and cinematographer relationship. Thursday July 2 2020 12:00PM EST.
Read More
June 26, 2020
CSC Live: Bobby Shore csc & Norm Li csc
Bobby Shore csc & Norm Li csc talk about the path to finding meaningful projects
Read More
June 18, 2020
CSC Live: Douglas Koch csc and Lighting Designer/Gaffer Fast Eddy Mikolič
Douglas Koch csc and Lighting Designer/Gaffer Fast Eddy Mikolič will demonstrate how to remotely light and shoot with Arri Remote Workflow Expert François Gauthier and Grande Chief Technology Officer Nicolas Fournier.
Read More
Diversity Consortium
On June 11th, the CSC's Diversity Committee (DC) hosted a closed-session webinar for all our members, which featured a panel of cinematographers representing the spectrum of diversity in Canada. The DC was formed earlier this year, and gained momentum in light of the current climate of events happening globally. The purpose of the panel, moderated […]
Read More
June 04, 2020
CSC Live: Jeremy Benning csc & Gavin Smith csc
Remote Colour Grading with Technicolor Toronto Senior Colourist Mark Kueper + Deluxe Toronto Senior Colourist Joanne Rourke. We take a look at the remote grading set ups in real time used by DP's Jeremy and Gavin on their respective shows "The Expanse" and "Wynonna Earp". Special Guests: Deluxe Picture Operations Manager Gary Brown + Technicolor […]
Read More
May 28, 2020
CSC Live: Kristin FieldHouse, Associate Member & Claudine Sauvé csc
Claudine Sauve CSC & Kristin Fieldhouse, Assoc. Member discuss finding "the look" of a project.
Read More
May 21, 2020
CSC Live: Serge Desrosiers CSC & Adriano Goldman ASC BSC ABC
Serge Desrosiers CSC and Adriano Goldman ASC BSC ABC take you behind the scenes of the television show The Crown.
Read More
Mark Irwin CSC ASC and Matt Irwin Assoc. Member
Mark Irwin CSC ASC and Matt Irwin Assoc. Member look back at their work and discuss how they have influenced each other as father and son over the years.
Read More
April 06, 2020
CSC Full Membership
The next Membership Committee meeting is scheduled for May 6, 2020.
Read More