From the President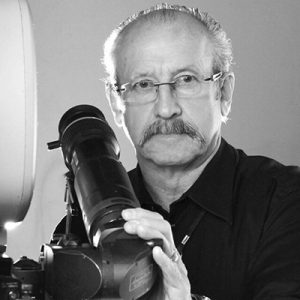 "And the winner is…"
Dare I reference that well-known phrase that every- one is now so familiar with? Traditionally, we are accustomed to witnessing awards being presented in person during the CSC Awards, but now we must be content to honour the winners virtually until the time when we can once again gather in person to celebrate the talents of our cinematographers.
There are many impediments and challenges that will need to be overcome before that day dawns, but we are hopeful that it will be soon.
On Sunday, April 18, there was encouragement via a special treat that came in the form of the virtual ASC Awards. The event took on a new dimension via a virtual platform called Remo. While preparing to partake of this new platform – it requires some personal input, time and training – someone asked me to describe this new platform and the only way that I could offer some insight was to reply, "It's like Zoom on steroids."
Space will not allow the opportunity to effectively describe the process, however, I will say that it offered the opportunity to engage with friends and colleagues in a manner other than the usual Zoom meetings. I was invited by one of our sponsors to attend the event and given a link to attend the training sessions that were made available.
In short, it works like this: the plat- form shows an overview, or map, of the ASC Clubhouse and surrounding buildings, each with a sponsor's name – ARRI, Fujifilm, Panavision, etc. I was offered a seat at a table in the ARRI building and was able to find my place for the Awards presentation. The interest- ing aspect to this, though, is that prior to the time given for the Awards, we were able to select the ASC Clubhouse on the map to look at who else was there. I could also search for anyone with whom I wished to contact using the chat button on the screen.
Once I made contact with the person I was looking to meet, I clicked on my name, which showed my position at one of the many tables in the room and double-clicked on the person whom I was looking to contact. I was then teleported to a vacant seat at that table. The tables varied as far as the seating was concerned, and if a table was fully occupied then a visual sign came up, at which point I went looking for another contact or I could decide to wait for a seat to become available.
George Willis csc-sasc, April 2021 Canadian Cinematographer
CSC Live: Virtual Production
Join us this Sunday, January 31st at 2pm EST for a discussion on real-time volumetric filmmaking.
Read More
Free January Issue!
Get FREE access to this month's digital issue!
Read More
The CSC wishes all our members, friends and sponsors a prosperous 2021.
Read More
2021 Awards – Call for Entries
Entries may now be submitted! Deadline for submissions: January 31 2021
Read More
2020 AGM
CSC 2020 AGM Reminder: Sunday December 20th at 12pm ET.
Read More
CSC Live: Bolero
Join us this Sunday December 13th at 12pm ET for a live stream discussion about the revolutionary Bolero intercom system.
Read More
New Central VP
We are pleased to announce the appointment of Penny Watier as our new Central Vice President.
Read More
Harry Makin csc 1930-2020
Considered one of the finest cinematographers of his generation, renowned for his powerful visual interpretations and technical acumen.
Read More
New West Coast VP
We are pleased to announce the appointment of Philip Lanyon csc as our new West coast Vice President.
Read More
New Board Members
We welcome new Board Members Claudine Sauvé csc & Rion Gonzales Assoc. Member
Read More