From the President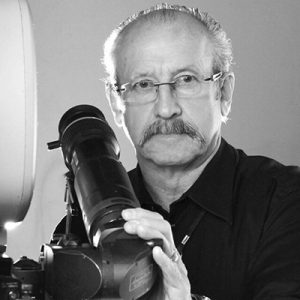 Some believe that the status quo is safer than change, which they fear might re- sult in confusion and chaos. But change comes for many reasons, whether it's change simply for change's sake, or change based on sound reasoning. I have always been of the opinion that a certain modicum of reasoning needs to exist behind any change.
This President's column will soon undergo some change as it will no longer be a part of the printed Canadian Cinematographer magazine after November 2021. This is cer- tainly no cause for concern, as it will still be available on a digital platform via a CSC newsletter.
The question might be posed why the change. The answer is simple: it's time. The sim- ple truth is that not everything can be expected to survive as is for many reasons, and a decision has been made to update and upgrade Canadian Cinematographer magazine.
We believe that a change in the right direction will be a new format look. This is change for a good reason, because the aspect ratios have, in the main, moved to a more modern image visualization format. The magazine cover will reflect that intent, coupled with a new size dimension and a revised masthead.
One of the most important aspects of a magazine is recognition. When one considers the fact that there is a plethora of magazines on a display shelf, the requirement is for the CSC magazine to gain prominence over others. It should be noted that even though the design and layout of pages within a magazine are to be carefully considered, the need for a bold and recognizable cover is what potential readers will be aware of before even opening the magazine.
To further explain the rationale, think for a moment about some of the more iconic magazines: Time, Rolling Stone, Seventeen, Life, People, Bazaar, Vogue, Look, Esquire and more. Those who subscribe to any particular magazine only look for the masthead and ignore the contents until later. Why? Because they are followers of the magazine that supports their lifestyle. This is why recognition is so important.
There is one further aspect to consider and understand – the current masthead was designed in 2009 and has not changed; there has not been any reason for a new look until now. With this intended change, comes the realization that it will take time to re- establish a readership because of the new masthead.
A positive side to this is that the magazine will be sent by mail to the established read- ership, therefore the recipients will not have to search among the competitive maga- zines that are displayed on magazine racks in stores and other outlets.
So, with this information in mind, I would like to thank all of you who have taken the time to read my ramblings over the years. This change will hopefully result in continued reading of the column, and I look forward to any comments that might come as a result of the new design format. Happy reading.
June 26, 2020
CSC Live: Bobby Shore csc & Norm Li csc
Bobby Shore csc & Norm Li csc talk about the path to finding meaningful projects
Read More
June 18, 2020
CSC Live: Douglas Koch csc and Lighting Designer/Gaffer Fast Eddy Mikolič
Douglas Koch csc and Lighting Designer/Gaffer Fast Eddy Mikolič will demonstrate how to remotely light and shoot with Arri Remote Workflow Expert François Gauthier and Grande Chief Technology Officer Nicolas Fournier.
Read More
Diversity Consortium
On June 11th, the CSC's Diversity Committee (DC) hosted a closed-session webinar for all our members, which featured a panel of cinematographers representing the spectrum of diversity in Canada. The DC was formed earlier this year, and gained momentum in light of the current climate of events happening globally. The purpose of the panel, moderated […]
Read More
June 04, 2020
CSC Live: Jeremy Benning csc & Gavin Smith csc
Remote Colour Grading with Technicolor Toronto Senior Colourist Mark Kueper + Deluxe Toronto Senior Colourist Joanne Rourke. We take a look at the remote grading set ups in real time used by DP's Jeremy and Gavin on their respective shows "The Expanse" and "Wynonna Earp". Special Guests: Deluxe Picture Operations Manager Gary Brown + Technicolor […]
Read More
May 28, 2020
CSC Live: Kristin FieldHouse, Associate Member & Claudine Sauvé csc
Claudine Sauve CSC & Kristin Fieldhouse, Assoc. Member discuss finding "the look" of a project.
Read More
May 21, 2020
CSC Live: Serge Desrosiers CSC & Adriano Goldman ASC BSC ABC
Serge Desrosiers CSC and Adriano Goldman ASC BSC ABC take you behind the scenes of the television show The Crown.
Read More
Mark Irwin CSC ASC and Matt Irwin Assoc. Member
Mark Irwin CSC ASC and Matt Irwin Assoc. Member look back at their work and discuss how they have influenced each other as father and son over the years.
Read More
April 06, 2020
CSC Full Membership
The next Membership Committee meeting is scheduled for May 6, 2020.
Read More
Boris Mosjovski csc & Brendan Steacy csc
Every Thursday hang out with Canadian Cinematographers during our new CSC Live series! This week Boris Mojsovski csc and Brendan Steacy csc will talk about alternating as DPs on the TV series Titans! Tune in 1:00PM EST on CSC Facebook and Instagram Live!
Read More
Introducing CSC Live
Every Thursday hang out with Canadian Cinematographers during our new CSC Live series! Jeremy Benning csc will be discussing current CSC activities as well as remote live grading. Tune in 1:00PM EST on CSC Facebook and Instagram Live.
Read More