From the President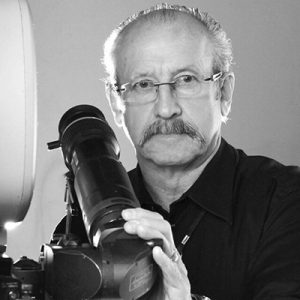 "And the winner is…"
Dare I reference that well-known phrase that every- one is now so familiar with? Traditionally, we are accustomed to witnessing awards being presented in person during the CSC Awards, but now we must be content to honour the winners virtually until the time when we can once again gather in person to celebrate the talents of our cinematographers.
There are many impediments and challenges that will need to be overcome before that day dawns, but we are hopeful that it will be soon.
On Sunday, April 18, there was encouragement via a special treat that came in the form of the virtual ASC Awards. The event took on a new dimension via a virtual platform called Remo. While preparing to partake of this new platform – it requires some personal input, time and training – someone asked me to describe this new platform and the only way that I could offer some insight was to reply, "It's like Zoom on steroids."
Space will not allow the opportunity to effectively describe the process, however, I will say that it offered the opportunity to engage with friends and colleagues in a manner other than the usual Zoom meetings. I was invited by one of our sponsors to attend the event and given a link to attend the training sessions that were made available.
In short, it works like this: the plat- form shows an overview, or map, of the ASC Clubhouse and surrounding buildings, each with a sponsor's name – ARRI, Fujifilm, Panavision, etc. I was offered a seat at a table in the ARRI building and was able to find my place for the Awards presentation. The interest- ing aspect to this, though, is that prior to the time given for the Awards, we were able to select the ASC Clubhouse on the map to look at who else was there. I could also search for anyone with whom I wished to contact using the chat button on the screen.
Once I made contact with the person I was looking to meet, I clicked on my name, which showed my position at one of the many tables in the room and double-clicked on the person whom I was looking to contact. I was then teleported to a vacant seat at that table. The tables varied as far as the seating was concerned, and if a table was fully occupied then a visual sign came up, at which point I went looking for another contact or I could decide to wait for a seat to become available.
George Willis csc-sasc, April 2021 Canadian Cinematographer
Tribe7 Blackwing Lens Demo
On September 29, 2019, the CSC organized a demo at Whites Camera of the new Tribe7 Blackwing lenses. Photos by Gregory Bennett, Associate Member. Article by Ian Harvey for Canadian Cinematographer Magazine (March 2020 issue) See more here at the Tribe7 website: https://7isatribe.com/ When William F. White hosted a demonstration of a new "tune- able" […]
Read More
CSC Screening | "Jurassic Park" in 35mm Q+A with Dean Cundey CSC ASC
Saturday April 13th, 2019, the CSC held a special screening of the original Jurassic Park in 35mm at TIFF Bell Lightbox. Cinematographer Dean Cundey CSC ASC was in attendance for a Q&A afterwards. Moderated by Arthur Cooper cscHosted by Manny Danelon and Jim TeevanThanks to Sim Post for editing the video.
Read More
April 4, 2019
CSC Gala 2019
Gala Tickets now available
Details about 2019 Awards via included link
Read More
March 16, 2019
IMAGO International Awards
CSC President George A. Willis csc attended the Annual IMAGO Conference and Awards Gala in Belgrade, Serbia.
Read More
Clavius Lens Testing Demo with Dylan Macleod, csc
This event was sponsored by the CSC and hosted by Whites Camera at their facility in Toronto. Photos by Justin Lovell, Associate Member See more here at the Richard Gale Optics website: http://www.richardgaleoptics.uk/clavius-lenses Back in 2013 I saw some posts about some interesting looking vintage glass that was being rehoused to work with PL mount […]
Read More
January 19, 2019
CSC Screening | "The Abyss" in 70mm Q+A with Mikael Salomon ASC
On January 19, 2019, a special screening for CSC members only of Jame's Cameron's "The Abyss" at the TIFF Bell Lightbox theatre in Toronto. This screening was made possible by the support of our sponsors, and was a free event for CSC members. Despite the fact that it was a major snowstorm that evening, we […]
Read More