From the President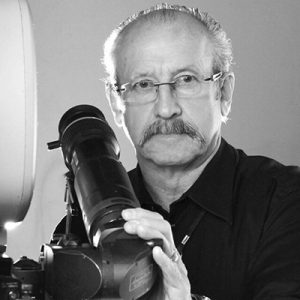 Some believe that the status quo is safer than change, which they fear might re- sult in confusion and chaos. But change comes for many reasons, whether it's change simply for change's sake, or change based on sound reasoning. I have always been of the opinion that a certain modicum of reasoning needs to exist behind any change.
This President's column will soon undergo some change as it will no longer be a part of the printed Canadian Cinematographer magazine after November 2021. This is cer- tainly no cause for concern, as it will still be available on a digital platform via a CSC newsletter.
The question might be posed why the change. The answer is simple: it's time. The sim- ple truth is that not everything can be expected to survive as is for many reasons, and a decision has been made to update and upgrade Canadian Cinematographer magazine.
We believe that a change in the right direction will be a new format look. This is change for a good reason, because the aspect ratios have, in the main, moved to a more modern image visualization format. The magazine cover will reflect that intent, coupled with a new size dimension and a revised masthead.
One of the most important aspects of a magazine is recognition. When one considers the fact that there is a plethora of magazines on a display shelf, the requirement is for the CSC magazine to gain prominence over others. It should be noted that even though the design and layout of pages within a magazine are to be carefully considered, the need for a bold and recognizable cover is what potential readers will be aware of before even opening the magazine.
To further explain the rationale, think for a moment about some of the more iconic magazines: Time, Rolling Stone, Seventeen, Life, People, Bazaar, Vogue, Look, Esquire and more. Those who subscribe to any particular magazine only look for the masthead and ignore the contents until later. Why? Because they are followers of the magazine that supports their lifestyle. This is why recognition is so important.
There is one further aspect to consider and understand – the current masthead was designed in 2009 and has not changed; there has not been any reason for a new look until now. With this intended change, comes the realization that it will take time to re- establish a readership because of the new masthead.
A positive side to this is that the magazine will be sent by mail to the established read- ership, therefore the recipients will not have to search among the competitive maga- zines that are displayed on magazine racks in stores and other outlets.
So, with this information in mind, I would like to thank all of you who have taken the time to read my ramblings over the years. This change will hopefully result in continued reading of the column, and I look forward to any comments that might come as a result of the new design format. Happy reading.
March 25, 2020
COVID 19
For the first time in the 63-year history of the CSC, the society's marquee Annual Awards Gala has been postponed. It fell victim to the onslaught of the COVID-19 pandemic that has been gripping the world. An insidious respiratory disease, COVID-19 is thought to be highly contagious and is believed to be mainly transmitted through […]
Read More
March 15, 2020
IMAGO International Awards Cancelled
CSC President George A. Willis csc-sasc recently returned from Belgium, where the IMAGO conference (IAGA) and Awards Gala was to be held in Brussels this March. Reports of COVID-19's rapid global spread and border closures forced delegates representing their societies to make immediate travel arrangements home. Thankfully, everyone made it back to Canada safely. […]
Read More
March 03, 2020
The Diversity Committee
Some of the female members of the CSC met on February 3, 2020 to create a committee to increase and educate women within our society. Now dubbed the "Diversity Committee," we will continue to find ways to encourage all minorities to pursue cinematography through oriented training, inclusive educational opportunities and new membership.
Read More
February 17, 2020
CSC Workshop | Lighting Faces
The CSC and ICG 669 are hosting a Lighting Faces on February 22-23 2020 in Vancouver taught by CSC President George A. Willis csc and Vice-President Carlos Esteves csc. This two-day workshop that offers participants practical knowledge on the fundamentals of achieving the most efficient and captivating lighting setups. Instructors will demonstrate the importance of background […]
Read More
February 07, 2020
CSC Workshop | Tabletop
Our Tabletop Workshop will be held February 15-16 2020 at Pie in the Sky studios. Lead by CSC President George A. Willis csc-sasc and Vice-President Carlos Esteves csc.
Read More
December 9, 2019
CSC Annual General Meeting
Our AGM was held on December 9 2019 at Technicolor in Toronto. The Annual Report containing all the accomplishments from 2019 was beautifully designed by Vice-President Carlos Esteves csc. Thank you to all those in attendance and special thanks to our amazing volunteer board, Executive Director Susan Saranchuk and Patty Guyader for putting together the […]
Read More
Tribe7 Blackwing Lens Demo
On September 29, 2019, the CSC organized a demo at Whites Camera of the new Tribe7 Blackwing lenses. Photos by Gregory Bennett, Associate Member. Article by Ian Harvey for Canadian Cinematographer Magazine (March 2020 issue) See more here at the Tribe7 website: https://7isatribe.com/ When William F. White hosted a demonstration of a new "tune- able" […]
Read More
CSC Screening | "Jurassic Park" in 35mm Q+A with Dean Cundey CSC ASC
Saturday April 13th, 2019, the CSC held a special screening of the original Jurassic Park in 35mm at TIFF Bell Lightbox. Cinematographer Dean Cundey CSC ASC was in attendance for a Q&A afterwards. Moderated by Arthur Cooper cscHosted by Manny Danelon and Jim TeevanThanks to Sim Post for editing the video.
Read More
April 4, 2019
CSC Gala 2019
Gala Tickets now available
Details about 2019 Awards via included link
Read More
March 16, 2019
IMAGO International Awards
CSC President George A. Willis csc attended the Annual IMAGO Conference and Awards Gala in Belgrade, Serbia.
Read More