From the President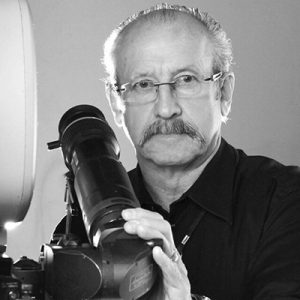 During my early years in the film industry, I was very fortunate to have done a lot of international travel. It was a strange time as I had just started to make the shift to operating and lighting but still re- mained heavily involved in my full-time occupation as a first AC.
We travelled with a very small crew – director, pro- ducer, art director and myself. Contrary to the gen- eral belief, our budgets were small and the sched- ules, while optimistic, were rather unrealistic. The demands of international travel also required that I needed to apply myself in the area of camera main- tenance. I remember purchasing the Arri Mainte- nance Manual, which became my bible as I had to be prepared to address the possibilities of things going wrong. The Arri IIC camera was our workhorse and I got to know that beast on the most intimate level, sometimes having to strip it down to almost bare bones because of a rogue wave when shooting on the beach.
I remember having to second guess mechanical sce- narios so that manual became quite possibly the most important part of my life when travelling. Allied to that valuable accessory was the very comprehensive tool kit that I travelled with for the "just in case and what if " scenario. The major problem on so many oc- casions was that travelling with a non-standard tool kit raised suspicions, and on more than one occasion we experienced some significant delays, especially if our flight arrived at night.
Regarding the mechanics of the camera, imagine sensing that there was a concern about a camera/ lens issue on an island, thousands of miles removed
from any civilization. As I reminisce, I recall anoth- er essential item – the basic black-and-white D-76 film processing kit, including all the chemicals. As an example, if there was any doubt concerning lens sharpness, the first line of defense was to shoot some black-and-white negative film followed by process- ing, commonly referred to as the "slop test." Mag- nification for inspection was achieved by using a re- versed prime lens and more often than not, a closet became the dark room.
But one of the strangest experiences was in Mada- gascar when a customs official was going through our carnet in a darkened airport when our flight was de- layed. While we assisted him (he had no flashlight), he demanded where the high-hat and the gooseneck were, bearing in mind we were looking at open cases of camera equipment. It was one of those moments you never forget. In the end, he was still confused, and we were all tired, but he allowed us to leave. An- other memorable customs experience was going through departure security, still in Madagascar, when an official wanted us to "open the tins" – the film cans. In those days, we always hand-carried our film through security. We tried to explain the concept of "exposed film," but he still insisted on seeing what was inside the tin. He watched as I put a "tin" in the change bag and then invited him to put his arms into the cuffs of that black bag and feel the film. Nope! There was no way that he would play that game of black magic. By this time, there was a huge lineup of passengers waiting to go through security and so out of frustration all he said was, "Go!" In retrospect, rather amusing but not at that time.
June 18, 2020
CSC Live: Douglas Koch csc and Lighting Designer/Gaffer Fast Eddy Mikolič
Douglas Koch csc and Lighting Designer/Gaffer Fast Eddy Mikolič will demonstrate how to remotely light and shoot with Arri Remote Workflow Expert François Gauthier and Grande Chief Technology Officer Nicolas Fournier.
Read More
Diversity Consortium
On June 11th, the CSC's Diversity Committee (DC) hosted a closed-session webinar for all our members, which featured a panel of cinematographers representing the spectrum of diversity in Canada. The DC was formed earlier this year, and gained momentum in light of the current climate of events happening globally. The purpose of the panel, moderated […]
Read More
June 04, 2020
CSC Live: Jeremy Benning csc & Gavin Smith csc
Remote Colour Grading with Technicolor Toronto Senior Colourist Mark Kueper + Deluxe Toronto Senior Colourist Joanne Rourke. We take a look at the remote grading set ups in real time used by DP's Jeremy and Gavin on their respective shows "The Expanse" and "Wynonna Earp". Special Guests: Deluxe Picture Operations Manager Gary Brown + Technicolor […]
Read More
May 28, 2020
CSC Live: Kristin FieldHouse, Associate Member & Claudine Sauvé csc
Claudine Sauve CSC & Kristin Fieldhouse, Assoc. Member discuss finding "the look" of a project.
Read More
May 21, 2020
CSC Live: Serge Desrosiers CSC & Adriano Goldman ASC BSC ABC
Serge Desrosiers CSC and Adriano Goldman ASC BSC ABC take you behind the scenes of the television show The Crown.
Read More
Mark Irwin CSC ASC and Matt Irwin Assoc. Member
Mark Irwin CSC ASC and Matt Irwin Assoc. Member look back at their work and discuss how they have influenced each other as father and son over the years.
Read More
April 06, 2020
CSC Full Membership
The next Membership Committee meeting is scheduled for May 6, 2020.
Read More
Boris Mosjovski csc & Brendan Steacy csc
Every Thursday hang out with Canadian Cinematographers during our new CSC Live series! This week Boris Mojsovski csc and Brendan Steacy csc will talk about alternating as DPs on the TV series Titans! Tune in 1:00PM EST on CSC Facebook and Instagram Live!
Read More
Introducing CSC Live
Every Thursday hang out with Canadian Cinematographers during our new CSC Live series! Jeremy Benning csc will be discussing current CSC activities as well as remote live grading. Tune in 1:00PM EST on CSC Facebook and Instagram Live.
Read More
March 25, 2020
COVID 19
For the first time in the 63-year history of the CSC, the society's marquee Annual Awards Gala has been postponed. It fell victim to the onslaught of the COVID-19 pandemic that has been gripping the world. An insidious respiratory disease, COVID-19 is thought to be highly contagious and is believed to be mainly transmitted through […]
Read More