From the President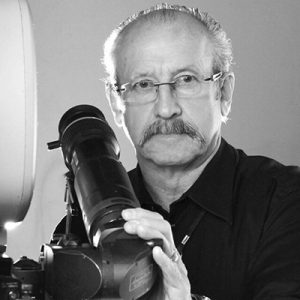 There have never been more ways for us to communicate than there are today, and this offers so many options for learning. The CSC Mentorship Program is proving to be extremely successful, and now with more than 80 pairings of mentors and mentees, it offers a diverse group of its membership to engage in this unique way of learning.
One of my mentees said just before we commenced our Mentorship Program to- gether, "My goal as a cinematographer is to learn, experiment and achieve." I find that his words aptly describe what mentorship means to him and what he hopes to achieve as a part of the process. It is vital to the fu- ture of our cinematographers, therefore, and it is incumbent upon us to provide whatever information we can to allow for this process and progress to take place.
Prior to beginning my career in the film in- dustry, I spent three years in art school and then moved into the world of advertising. During this period, it was not the norm to seek mentorship, and the learning process was more akin to climbing a ladder – one step at a time – but I never viewed this as anything negative because there was no oth- er way to move ahead.
However, when I transitioned into the film industry, from literally my first day, I sud- denly became aware of the need to gather as much information as I could. The question was how I was going to address that need,
and the only answer I could come up with was to pay attention, as well as ask questions. This might sound as if everything was avail- able for the taking. Not so. Being available for whatever presented itself was only the beginning. The rest of the learning process, for me anyway, was to make connections with people whom I admired and respected in the industry. To me, this is an extremely important part of the process because we are also in a people business.
From my early days in the industry, I have been very fortunate to have had many men- tors to whom I will always be grateful. One thing that I realize time and time again is the fact that while so much of what we need to know in filmmaking is available online these days, there is no substitute for making a con- nection with someone who can open one's eyes to the process of learning. The results of sharing information, whether in person or even via a phone call, can and should never be underestimated. The times that we are ex- periencing are difficult, which adds more of a challenge to the mentoring process, but I have found that it continues to be most re- warding. Aside from a phone call, it's pos- sible for a mentee to send a visual example that relates to a specific question and then take the time to connect and explore the an- swers.
If there is a willingness to learn, the CSC will provide it.
George Willis csc-sasc, April 2021 Canadian Cinematographer
Boris Mosjovski csc & Brendan Steacy csc
Every Thursday hang out with Canadian Cinematographers during our new CSC Live series! This week Boris Mojsovski csc and Brendan Steacy csc will talk about alternating as DPs on the TV series Titans! Tune in 1:00PM EST on CSC Facebook and Instagram Live!
Read More
Introducing CSC Live
Every Thursday hang out with Canadian Cinematographers during our new CSC Live series! Jeremy Benning csc will be discussing current CSC activities as well as remote live grading. Tune in 1:00PM EST on CSC Facebook and Instagram Live.
Read More
March 25, 2020
COVID 19
For the first time in the 63-year history of the CSC, the society's marquee Annual Awards Gala has been postponed. It fell victim to the onslaught of the COVID-19 pandemic that has been gripping the world. An insidious respiratory disease, COVID-19 is thought to be highly contagious and is believed to be mainly transmitted through […]
Read More
March 15, 2020
IMAGO International Awards Cancelled
CSC President George A. Willis csc-sasc recently returned from Belgium, where the IMAGO conference (IAGA) and Awards Gala was to be held in Brussels this March. Reports of COVID-19's rapid global spread and border closures forced delegates representing their societies to make immediate travel arrangements home. Thankfully, everyone made it back to Canada safely. […]
Read More
March 03, 2020
The Diversity Committee
Some of the female members of the CSC met on February 3, 2020 to create a committee to increase and educate women within our society. Now dubbed the "Diversity Committee," we will continue to find ways to encourage all minorities to pursue cinematography through oriented training, inclusive educational opportunities and new membership.
Read More
February 17, 2020
CSC Workshop | Lighting Faces
The CSC and ICG 669 are hosting a Lighting Faces on February 22-23 2020 in Vancouver taught by CSC President George A. Willis csc and Vice-President Carlos Esteves csc. This two-day workshop that offers participants practical knowledge on the fundamentals of achieving the most efficient and captivating lighting setups. Instructors will demonstrate the importance of background […]
Read More
February 07, 2020
CSC Workshop | Tabletop
Our Tabletop Workshop will be held February 15-16 2020 at Pie in the Sky studios. Lead by CSC President George A. Willis csc-sasc and Vice-President Carlos Esteves csc.
Read More
December 9, 2019
CSC Annual General Meeting
Our AGM was held on December 9 2019 at Technicolor in Toronto. The Annual Report containing all the accomplishments from 2019 was beautifully designed by Vice-President Carlos Esteves csc. Thank you to all those in attendance and special thanks to our amazing volunteer board, Executive Director Susan Saranchuk and Patty Guyader for putting together the […]
Read More
Tribe7 Blackwing Lens Demo
On September 29, 2019, the CSC organized a demo at Whites Camera of the new Tribe7 Blackwing lenses. Photos by Gregory Bennett, Associate Member. Article by Ian Harvey for Canadian Cinematographer Magazine (March 2020 issue) See more here at the Tribe7 website: https://7isatribe.com/ When William F. White hosted a demonstration of a new "tune- able" […]
Read More
CSC Screening | "Jurassic Park" in 35mm Q+A with Dean Cundey CSC ASC
Saturday April 13th, 2019, the CSC held a special screening of the original Jurassic Park in 35mm at TIFF Bell Lightbox. Cinematographer Dean Cundey CSC ASC was in attendance for a Q&A afterwards. Moderated by Arthur Cooper cscHosted by Manny Danelon and Jim TeevanThanks to Sim Post for editing the video.
Read More