---
The CSC Virtual Production Masterclass is created by cinematographers for cinematographers, and aimed at established DPs who need good quality comprehensive information quickly in an advanced learning environment.
This intensive three-day session will provide participants with a thorough understanding of camera and lighting techniques necessary to create compelling visuals in an LED volume, as well as an overview of Unreal engine. Targeted towards experienced cinematographers, and taught by CSC industry experts, participants will gain the hands-on training needed to excel in the rapidly evolving realm of virtual production.
COURSE OVERVIEW:
A comprehensive 3-day course on shooting and lighting for Virtual Production
Learn about the latest technology filmmakers are turning to for in-camera VFX, from production considerations to best practices during principal photography
Hear from virtual production experts about working with Unreal Engine and how to solve common issues encountered in LED volumes
Get hands-on experience in a no pressure environment and engage with the latest cinematography tools
Toronto: July 8, 9, 10 (at 2D House & William F. White Intl / Pixomondo) | Vancouver: August 18, 19, 20 (at Versatile Media)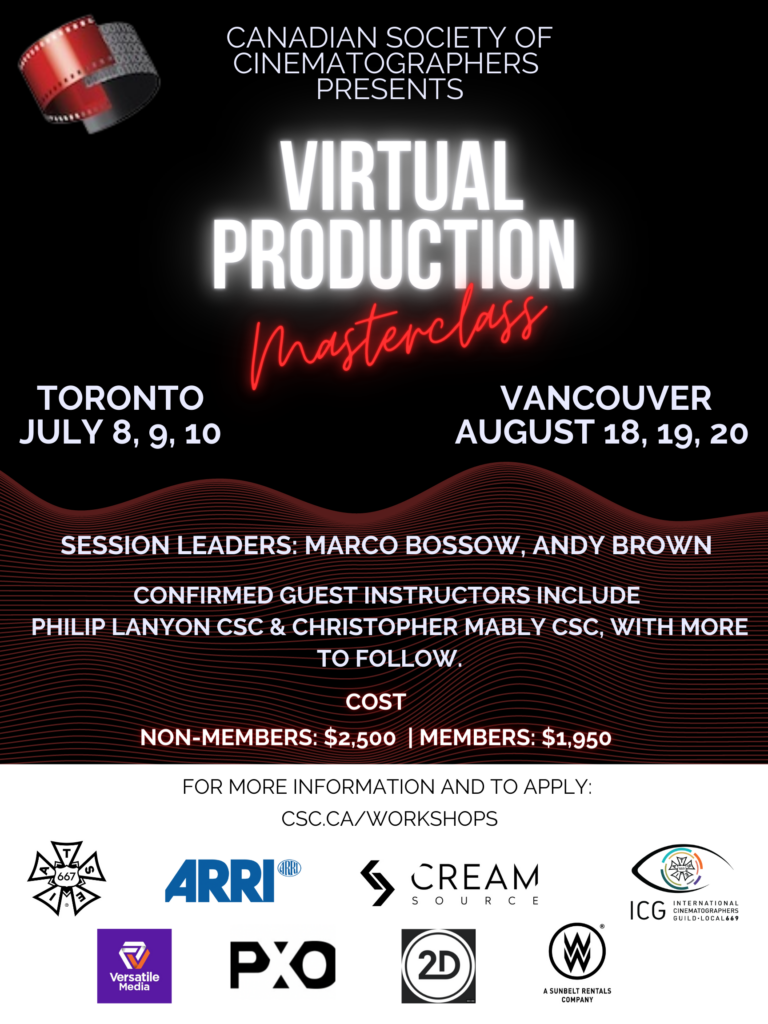 Application Deadlines:
Vancouver – July 10 2023
Please note that this session is subject to a screening process. Successful applicants will be notified via email. Please keep an eye on your inbox, including spam or junk folders, as sometimes confirmation emails may be redirected there.