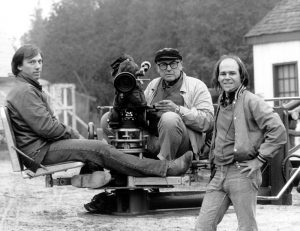 Video
CSC 50th Anniversary Historical Interviews (from 2007)
This is a shortened, remastered version of the 50th anniversary historical interviews, re-cut by Francis Luta.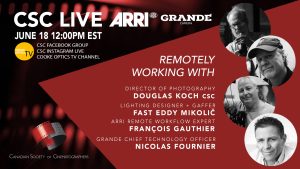 Video
CSC Live: Douglas Koch csc and Lighting Designer/Gaffer Fast Eddy Mikolič
Douglas Koch csc and Lighting Designer/Gaffer Fast Eddy Mikolič will demonstrate how to remotely light and shoot with Arri Remote Workflow Expert François Gauthier and Grande Chief Technology Officer Nicolas Fournier.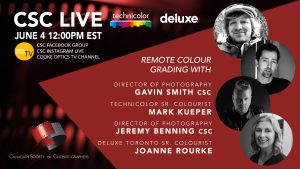 Video
CSC Live: Jeremy Benning csc & Gavin Smith csc on Remote Colour Grading
Jeremy Benning csc & Gavin Smith csc are joined by Technicolor Senior Colourist Mark Kueper and Deluxe Toronto Senior Colourist Joanne Rourke in a live demo of each company's respective remote colour grading solutions. Technicolor's Techstream app and Deluxe's Streambox system. Jeremy shows examples of his short "Footsteps" and "The Expanse" season 4, and Gavin shows "Wynonna Earp" season 3 examples.
Podcast
Eric Oh CSC MYSC
This podcast features Director of Photography Eric Oh CSC MYSC, in conversation with Carolyn Wong of the CSC.
Barcelona based, Eric discusses his early days as an AC, steadicam operator, the CSC members that influenced his career and the importance of keeping calm. He reveals his insight gained from 8 years working in Asia and learning when to go a little out of your comfort zone to progress as a DP. Eric believes in giving back to cinematography societies he's part of, notably with CSC socials and as a founding member of the Malaysian Society of Cinematographers.
Guest hosted on the CSC Instagram Feb. 15-28, 2019.
Podcast production services were provided courtesy of ZERO11ZERO.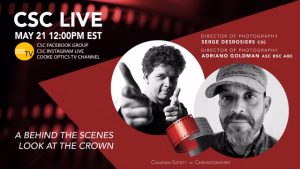 Video
CSC Live: Serge Desrosiers CSC & Adriano Goldman ASC BSC ABC
Serge and Adriano take a look behind the scenes of "The Crown". Serge debuts the behind the scenes video he created during a visit to Adriano's set.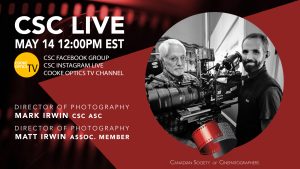 Video
CSC Live: Mark Irwin CSC ASC & Matt Irwin Associate Member
Mark Irwin CSC ASC and Matt Irwin Assoc. Member look back at their work and discuss how they have influenced each other as father and son over the years.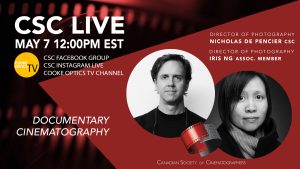 Video
CSC Live: Nicholas De Pencier csc & Iris Ng Associate Member
Cinematographers Nicholas de Pencier csc from Anthropocene: The Human Epoch and Iris Ng, Associate Member discuss documentary cinematography.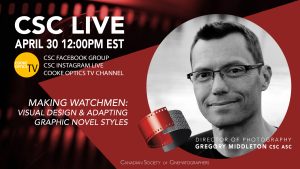 Video
CSC Live: Gregory Middleton CSC ASC
Gregory discusses visual design of Watchmen.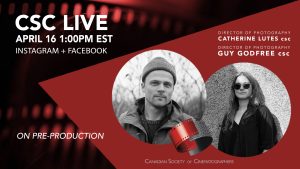 Video
CSC Live: Catherine Lutes csc & Guy Godfree csc
Catherine (Anne with an E) and Guy (Maudie) discuss their prep processes for TV series and feature film work.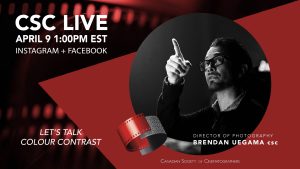 Video
CSC Live: Brendan Uegama csc
Brendan discusses the concept of lighting with colour contrast, on some of his shows such as Riverdale, Chilling Adventures of Sabrina, Katy Keene and Child's Play.