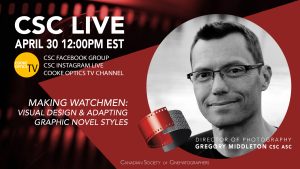 Video
CSC Live: Gregory Middleton CSC ASC
Gregory discusses visual design of Watchmen.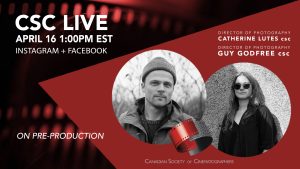 Video
CSC Live: Catherine Lutes csc & Guy Godfree csc
Catherine (Anne with an E) and Guy (Maudie) discuss their prep processes for TV series and feature film work.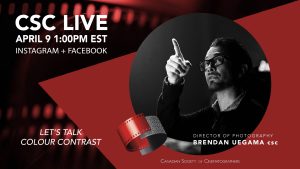 Video
CSC Live: Brendan Uegama csc
Brendan discusses the concept of lighting with colour contrast, on some of his shows such as Riverdale, Chilling Adventures of Sabrina, Katy Keene and Child's Play.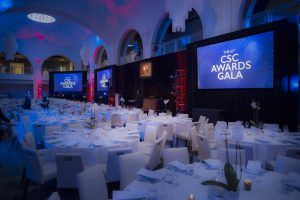 Photo
2019 Awards Gala
Highlights of the 63rd Annual Gala held at Arcadian Court in Toronto on March 23rd, 2019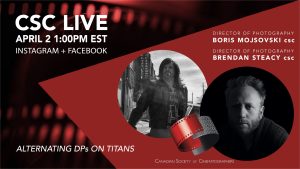 Video
CSC Live: Boris Mosjovski csc and Brendan Steacy csc
Boris and Brendan co-host this live streaming event on April 2nd, 2020 where they discuss working together as alternating DP's on the series "Titans".
Podcast
Boris Mojsovski csc
This podcast features Director of Photography Boris Mojsovski csc in conversation with Jeremy Benning csc.
Boris discusses his work on the DC Comics series Titans, as well as 12 Monkeys, the concept of working with a co-DP on an episodic TV series and his general approach to prep and on-set lighting.
Guest hosted on our Instagram 16-30 Oct 2017.
Podcast production services were provided courtesy of Treehaus Sound.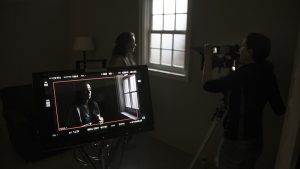 Photo
Workshops: Behind The Scenes
Candid moments at the CSC's various workshops.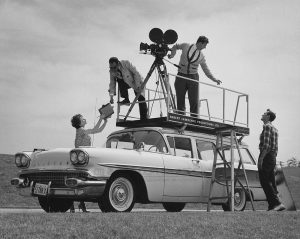 Photo
Archival Photo Collection
A selection of images tracing back to the CSC's origins in 1957, and beyond.
Podcast
Ron Stannett csc
This podcast features Director of Photography Ron Stannett csc in conversation with Carolyn Wong of the CSC.
Ron reminiscences about his journey from in front of the camera, to behind it downunder in his native Australia, to his long and outstanding career in Canada. His adventures with intense documentary shooting, giving 'good negative', how digital is fun and wanting getting 'edgy' with his lighting at the age of 74.
Thank you Finalé Post-Production and Andrew Jha in Vancouver for the recording space.
Podcast post production services were provided courtesy of Michael Jari Davidson (Associate member) and Devin O'Haire.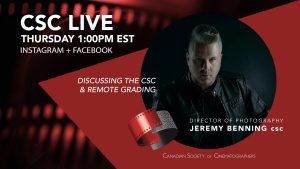 Video
CSC Live: Jeremy Benning csc
Jeremy discusses current happenings with the CSC (as a Board member) and then discusses remote colour grading.