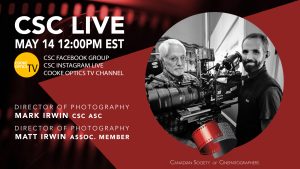 Video
CSC Live: Mark Irwin CSC ASC & Matt Irwin Associate Member
Mark Irwin CSC ASC and Matt Irwin Assoc. Member look back at their work and discuss how they have influenced each other as father and son over the years.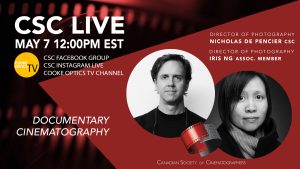 Video
CSC Live: Nicholas De Pencier csc & Iris Ng Associate Member
Cinematographers Nicholas de Pencier csc from Anthropocene: The Human Epoch and Iris Ng, Associate Member discuss documentary cinematography.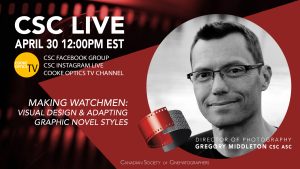 Video
CSC Live: Gregory Middleton CSC ASC
Gregory discusses visual design of Watchmen.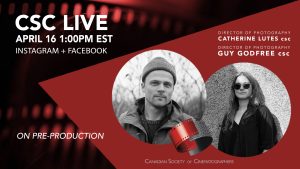 Video
CSC Live: Catherine Lutes csc & Guy Godfree csc
Catherine (Anne with an E) and Guy (Maudie) discuss their prep processes for TV series and feature film work.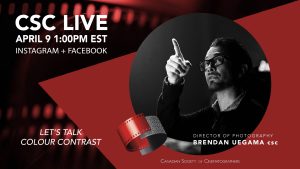 Video
CSC Live: Brendan Uegama csc
Brendan discusses the concept of lighting with colour contrast, on some of his shows such as Riverdale, Chilling Adventures of Sabrina, Katy Keene and Child's Play.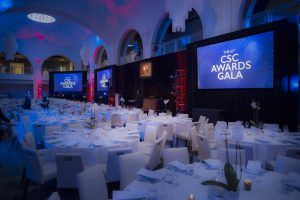 Photo
2019 Awards Gala
Highlights of the 63rd Annual Gala held at Arcadian Court in Toronto on March 23rd, 2019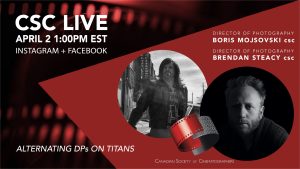 Video
CSC Live: Boris Mosjovski csc and Brendan Steacy csc
Boris and Brendan co-host this live streaming event on April 2nd, 2020 where they discuss working together as alternating DP's on the series "Titans".
CSC Audio Files Podcasts
Boris Mojsovski csc
This podcast features Director of Photography Boris Mojsovski csc in conversation with Jeremy Benning csc.
Boris discusses his work on the DC Comics series Titans, as well as 12 Monkeys, the concept of working with a co-DP on an episodic TV series and his general approach to prep and on-set lighting.
Guest hosted on our Instagram 16-30 Oct 2017.
Podcast production services were provided courtesy of Treehaus Sound.
Read More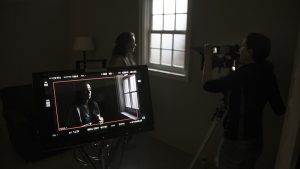 Photo
Workshops: Behind The Scenes
Candid moments at the CSC's various workshops.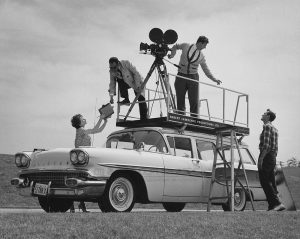 Photo
Archival Photo Collection
A selection of images tracing back to the CSC's origins in 1957, and beyond.